March 30, 2020 | MS and COVID-19 Interview with Professor Giancarlo Comi
WEBINAR: MS AND COVID-19 INTERVIEW WITH PROFESSOR GIANCARLO COMI
March 30, 2020 - Monday
This interview is for healthcare providers and addresses what's been learned from Italy related to the epidemiology of COVID-19, its potential impact on people diagnosed with MS, and recommendations related to disease modifying therapies. 
• Giancarlo Comi, MD
Professor of Neurology, Chairman of the Department of Neurology, and Director of the Institute of Experimental Neurology, Vita-Salute San Raffaele University, Scientific Institute San Raffaele
Milan, Italy

----------
Thank you to the National MS Society for an informative interview with Professor Giancarlo Comi of Italy.
APRIL 2, 2020 | The Impact of COVID-19 on Multiple Sclerosis Management
WEBINAR: THE IMPACT OF COVID-19 ON MULTIPLE SCLEROSIS MANAGEMENT
April 2, 2020 - Thursday
6:00 PM ET 
Patients with multiple sclerosis (MS) are among one of the top demographics significantly impacted by the COVID-19 pandemic. Faced with an increased risk of susceptibility, this population is looking to the health care community for guidance on how this risk may impact their current treatment regimens and what they can do to best protect themselves.
While the information regarding COVID-19 infections changes hour by hour, there is a growing pool of real-world reports and experiences being shared online from MS specialists around the world.
In an effort to bring you the latest information being reported and updated guidance from leading MS organizations, NeurologyLive has partnered with the Women Neurologists Group on the live webinar: Impact of COVID-19 on Multiple Sclerosis Management.
The presentation is given by:
• Mitzi Joi Williams, MD
Assistant Professor of Medicine and Clinical Neurologist at Morehouse School of Medicine
Founder of Joi Life Wellness Clinic 
Dr. Williams provides an overview of the latest guidelines, review recently reported cases from neurologists from around the world, and address concerns about adapting patient care.
----------
Brought to us by NeurologyLive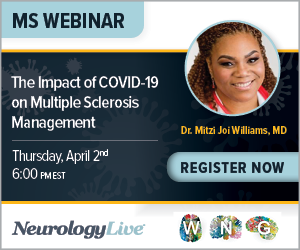 APRIL 2, 2020 | MS & COVID-19: A WEBINAR SERIES FOR HEALTHCARE PROVIDERS
MS & COVID-19: A WEBINAR SERIES FOR HEALTHCARE PROVIDERS
April 2, 2020 - Thursday
7:00 PM - 8:00 PM ET 
This week's webinar featured:
• Anne Cross, MD
Neurologist at Washington University School of Medicine and the John Trotter MS Center  
• Avindra Nath, MD
Neurovirologist at the National Institutes of Health 
----------
Brought to us by the National MS Society (NMSS) & the Consortium of Multiple Sclerosis Centers (CMSC)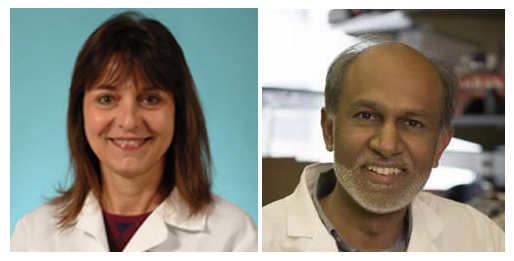 APRIL 16, 2020 | MS & COVID-19: A WEBINAR SERIES FOR HEALTHCARE PROVIDERS
MS & COVID-19: A WEBINAR SERIES FOR HEALTHCARE PROVIDERS
April 16, 2020 - Thursday
7:00 PM - 8:00 PM ET 
This week's webinar featured:
• Avindra Nath, MD
Neurovirologist at the National Institutes of Health 
• Kiran T. Thakur, MD
Inpatient Neuroinfectious Disease Specialist at Columbia University Irving Medical Center
----------
Brought to us by the National MS Society (NMSS) & the Consortium of Multiple Sclerosis Centers (CMSC)